Dental implants
Dental implant is a titanium screw (similar to the tooth's own root). With the help of surgery, we insert titanium screws into the jawbone as a foundation for the new teeth (crowns or bridges). The big advantages of dental implants are that, unlike removable dentures, they do not loosen, are strong and stable. In addition, you do not need to grind and drill your healthy neighboring teeth to make, for example, a bridge. This is the optimal variant for those who want to achieve a good and long-term result. A dental implant is a kind of artificial root in the form of a screw made of titanium with several parts, which the dentist screws into the jawbone during an operation. Titanium is a metal that has unique ability to grow into the jawbone firmly. And therefore implants are more permanent than prostheses and require only good hygiene and repair rarely. A dental implant is also not so dependent on the teeth around as bridges are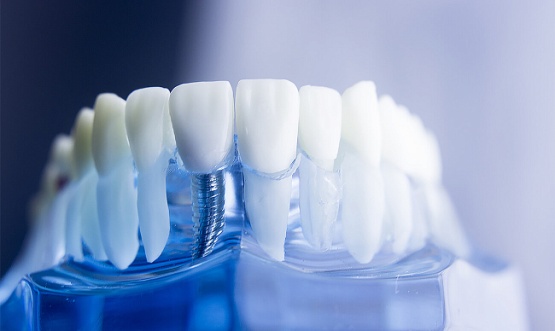 Basic indications for dental implant treatment
• Aplasia/agenesis
• Tooth loss (caries, periodontitis, trauma, unsuccessful endodontia)
• Poor prosthetic function
• Nausea problems
• Psychological inability to wear prosthesis
• Diastema – a gap between e.g. two teeth
• Single tooth loss – intact neighboring teeth
• Adentia – absence of teeth
• Periodontitis mobility and tooth loss
• Tooth bridge broken
• Atrophy of bone tissue and all that is associated with it (bite disorders, speech defects)
Absolute contraindications
• Cardiovascular diseases, problems with breathing or nervous system
• Immunity disorders
• Serious mental disorders/diseases
• Cancer
• Haemophilia
• Problems with chewing muscles and jaw joints
• Problems with anesthesia.
Contraindications
• Diseases of the oral cavity
• Poor hygiene of the oral cavity
• Diabetes
• Hepatit C
• HIV/AIDS
Dental implant construction

Titanium screw
The implant screw of titanium is operated in the jaw bone firmly as a tooth root

Abutment
The abutment (distans) is attached to titanium screw, then the prepared crown is attached directly to the abutment or directly to the implant

Crown
And, finally, a new artificial tooth crown that looks very natural. The crown is made of zirconium, cermet and porcelain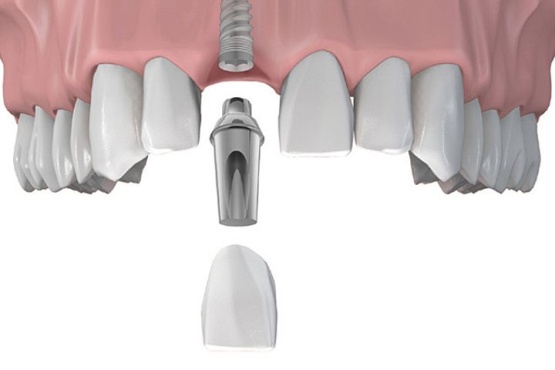 Treatment - step by step
1. Preparation before implant treatment
Prior to implant treatment, a preliminary consultation and assessment is performed by a dentist/surgeon. X-ray of your teeth and your tooth bone is mandatory
• OPG panoramic X-ray). CBCT (3D X-ray image) - all these procedures are mandatory so that to see if the patient has enough bone volume and if quality is good enough. And to figure out what implant size the patent should have and where exactly it should be placed.
• The jawbone and possibly other teeth must be completely free of infection and healed from any previous dental treatments. Otherwise, bacteria can penetrate the wound and lead to unwanted inflammation of the damaged tissues around the dental implant.
State of health – it is very important for the patient to have an up-to-date health declaration completed. Sometimes it may be impossible to install fixed implants. For example, the reason for this may be that one has problems with his immune system so that surgical intervention is not recommended. Or diabetes that hinders the healing process. So, consult with your doctor before surgery.
2.Building up the jawbone with bone replacement material (if applicable)
The next stage is associated with bone replacement. Resorption of the jawbone after tooth loss is common. In many cases, the jawbone must be reconstructed before the implant can be inserted. The healing process takes about 3 months. Approximately for the period needed for the body to form bones in which the bone replacement material is placed. The procedure takes about 1-2 hours and is performed under local anesthesia.
3. Insertion of dental implants
First, a titanium screw is installed in the jaw bone (dental implant), then a cover screw is placed on top of the implant in order to protect the tooth implant itself. Then the entire fixture is covered over with mucosa/gums. After that, the dental implant is left to heal for 4-6 months, in severe cases - up to a year. The operation takes only a few hours and is performed under local anesthesia completely painlessly.
4. Insertion of abutment
As a rule, abutment is placed when the integration of the dental implant into the bone is almost completed. When the gum heal around the abutment, an intact and tightly closing transition occurs between implants and gums. The spacer is screwed to the dental implants, and the crown or bridge is fixed with screw or cement on the abutment. It takes some time for the gums to heal before one can make a cast for the future crown.
5. Installation of the new teeth
Now it's time to fasten a crown, bridge or whole prosthesis. The new teeth have been developed in a special laboratory, tailored to customize particularly your mouth and your preferences. Their design is based on a cast taken at a previous visit.
Cleaning and care after implant treatment
To avoid infections, it is important to keep the mouth clean. It is normal to become swollen and bruising can also be obtained. There is no danger. In about a week, the swelling and bruising should disappeare.
All tips can be divided into two groups:
1. Medically
• Take antibiotics that dentists have prescribed.
• We recommend to rinse your mouth twice a day with antibacterial solution, for example. Corsodyl or similar.
• In case of possible pain, take anaesthetic medications.
• To reduce swelling, roll the ice into a clean towel and lay it on the inflamed area.
2. Physical activities and the like
• It is preferable to avoid flying, cycling for longer distances and climbing stairs.
• Exclude physical activities and anything that can raise your blood pressure. Examples of these activities are sauna, sports, etc.
• Food plays a big role in the healing process. Therefore, you should avoid hot, cold and spicy food (in any case, the first week after the surgery).